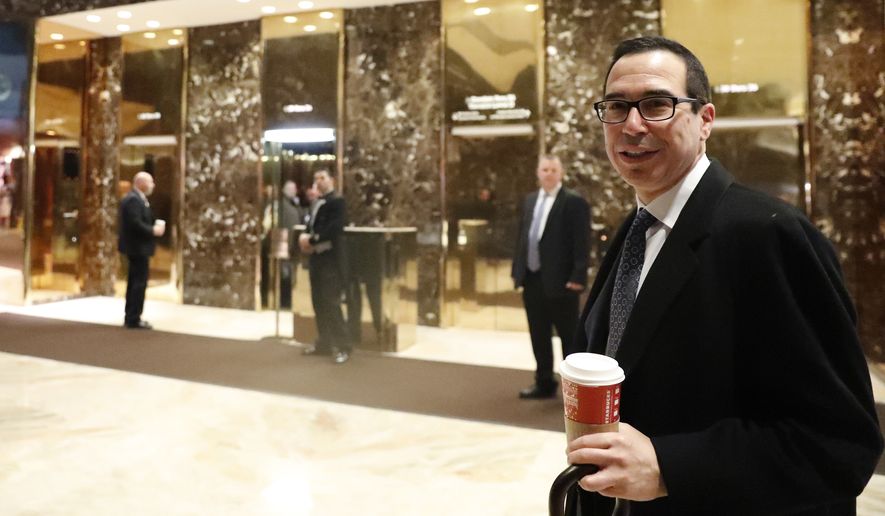 A high-profile member of the Hollywood community has been named to a pivotal position in the incoming administration of President-elect Donald Trump.
It was recently announced that Trump has chosen movie production finance expert Steve Mnuchin to be his treasury secretary.
Prior to coming to Tinseltown, Mnuchin had a 17-year stint at Goldman Sachs, where he was a partner and eventually became chief information officer for the firm.
While in Hollywood, he earned additional credentials as a significant behind-the-scenes player in the movie business and an industry leader who headed up business entities that completed numerous financing deals with big-name studios 20th Century Fox and Warner Bros.
Mnuchin's record in Hollywood is a winning one. He has played the role of producer and executive producer with numerous box-office successes to his name, including  the "X-Men" franchise, "The Devil Wears Prada," "The Lego Movie," "Batman v Superman: Dawn of Justice," "The Legend of Tarzan," "Sully," "American Sniper," "Mad Max: Fury Road," "Suicide Squad," and "Avatar," which is one of the highest-grossing films in history.
When Mnuchin initially became a part of the Trump campaign, The Wrap, a Hollywood trade publication, asked him whether he was worried that his work in politics would affect the box-office performance of the movie "Suicide Squad."
"I'm a financier of the film," Mnuchin said. "We've had a great partnership with Warner Bros. and politics is completely separate."
As to specifically whether filmgoers were going to skip the movie over his ties to Trump, Mnuchin responded, "I have not heard one word of that to date. Obviously there are a lot of people seeing the film."
As it turned out, the movie ended up hauling in almost $746 million worldwide.
Mnuchin lays claim to an acting credit as well.  His role in Warren Beatty's recently released "Rules Don't Apply" is one in which he plays a Wall Street executive.
In Trump's words, Mnuchin is "a world-class financier, banker and businessman, and has played a key role in developing our plan to build a dynamic, booming economy that will create millions of jobs."
As has occurred with virtually all of the president-elect's cabinet choices, Democratic critics are likely to carp about Mnuchin's outsider status, since Trump's treasury pick has refreshingly never served in government.
Opponents are also likely to go on a search for any business dealings of Mnuchin's that can be portrayed in a negative manner.
Still, some Hollywood players who actually know him have already begun to publicly sing his praises.
"Avatar" producer Jon Landau told the Los Angeles Times that Mnuchin was a "smart, personable guy" who has "certainly proven himself in the business world."
Prominent entertainment attorney Peter Dekom said that he "understands the finance side of Hollywood as well as anyone."
Veteran screenwriter Lionel Chetwynd characterized him as "a very sober individual."
"He's not Mark Cuban," Chetwynd explained. "There are people who operate in Hollywood but who do so in a very pristine manner, who don't show up every night at the right restaurants, and he would be one of those. Not flashy people, but very solid business people whose interests stretch very far beyond movies and movie stars."
As treasury secretary, the former Hollywood insider will be a key player in the effort to craft and implement policies that significantly bolster the nation's anemic economic growth rate.
"I understand what needs to be done to fix the economy," Mnuchin recently stated, adding that he would be part of the implementation of "a bold economic agenda."
Mnuchin is poised to be an integral part of a team within the Trump administration that will work on a broad range of economic initiatives, including reforming the nation's tax structure, bringing innovation to the rebuilding of the country's infrastructure, and finding ways to transform trade agreements so that the nation's best interests take center stage.