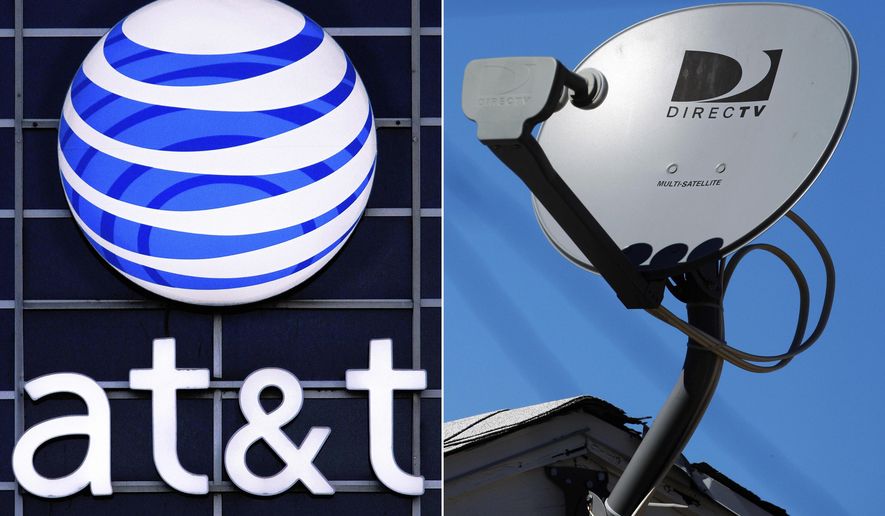 DirecTV just recently removed Newsmax from its channel lineup.
It was less than a year ago that the AT&T-owned media outlet deplatformed One America News (OAN), another digital news source that offers folks a more balanced option to the far-left fare that overwhelmingly dominates the current media ethersphere.
The selective decision by corporate heads appears to have been highly politically motivated, since a host of channels that are filled with radical-left programming are still readily available to DirecTV users, even though viewing audiences remain in short supply.
Newsmax, on the other hand, ranks as the fourth highest-rated cable news channel in the nation. But now the more than 15 million customers of DirecTV, DirecTV Stream, and U-Verse are no longer able to access Newsmax's alternative to the knee-jerk liberal content that appears on almost all of the other news and information channels.
One of the outlets with an extreme left-wing agenda that is allowed to freely prattle on is Vice Media. The channel is a virtual promoter of the trademark liberal political violence that has been witnessed over the past several years. Not only does Vice Media get to remain on the platform, it turns out that it is being subsidized financially by a managing owner of DirecTV.
Newsmax has experienced tremendous growth precisely because it continues to deliver to audiences the content that they seek; content largely denied to them elsewhere. Comprehensive coverage of national and international news, governmental operations, legal procedures and rulings, federal, state and local politics, etc., are on the daily docket.
With this latest move, DirecTV is essentially stifling speech that counters the Democratic Party's carefully crafted and disseminated narrative.
Could it have anything to do with the looming 2024 presidential election? You be the judge.
Republican congressional members are rightly indignant about DirecTV's decision. Many are publicly condemning the unprecedented move.
In light of the recent Twitter file revelations that point to probable collusion between government and technology platforms, it seems as though the perfect opportunity has presented itself for the new GOP-controlled House to investigate the origins of DirecTV's decision to engage in what appears to be blatant ideological discrimination.
House committees may be taking a closer look at an entity called TPG Capital. This is a private equity fund that reportedly owns a 30% stake in DirecTV and also appears to oversee the cable company's operations.
A few more details. TPG Capital is the private equity arm of the global asset firm TPG, which has fully adopted a woke-oriented agenda referred to in the business world as Environmental, Social and Governance (ESG).
ESG is a sort of measuring tool to gauge whether or not business organizations are sufficiently onboard with the woke agenda in order to qualify for financing and other advantages that equity firms provide.
On its website, TPG boasts about its ESG bona fides:
"TPG first adopted a Global ESG Performance Policy in 2012 and became a signatory to the UN Principles of Responsible Investment in 2013. Each year, we continue to strengthen and deepen the integration of ESG performance throughout the firm."
While AT&T owns 70% of DirecTV, the telecommunications company had earlier sold a 30% stake to TPG.
AT&T named TPG as DirecTV's operational manager. Under the terms of the transaction, the current DirecTV is governed by a board with two representatives from AT&T, two from TPG, and an additional fifth seat designated for the CEO.
The politics of those at the top rung of TPG are of the ultra-liberal kind. TPG's executives have given Democratic candidates 90% of their political donations. The private equity firm has also subsidized the aforementioned far-left news network Vice Media to the tune of hundreds of millions.
The TPG partners that have been appointed to the DirecTV board are David Trujillo and John Flynn. Trujillo is a source of funds for Democrat politicians that include former Secretary of State Hillary Clinton, Senator Chuck Schumer, D-N.Y., and Secretary of Health and Human Services Xavier Becerra.
Interestingly, prior to the time OAN was jettisoned from DirecTV, Democrats on the House Energy and Commerce Committee had admonished the cable carrier for the "spread of dangerous misinformation."
Representatives Jerry McNerney, D-Calif., and Anna Eshoo, D-Calif., had written letters to a dozen cable, satellite and streaming video companies, including DirecTV, demanding without evidence that the content providers give an explanation as to why they were allowing Newsmax, OAN and Fox to remain on their platforms, accusing the media companies of "disseminating misinformation to millions" of users.
"Misinformation on TV has led to our current polluted information environment that radicalizes individuals to commit seditious acts and rejects public health best practices…," the representatives wrote, singling out Newsmax, OAN and Fox.
With two out of three outlets on the list going down, Congress needs to act fast to rescue free speech from the clutches of the stealth partners in the censorship battle.